Day 1 :
Keynote Forum
Senior Technical Advisor/General Manager, Blue Archipelago Berhad
Time : 09:45 am to 10:25 am

Biography:
Nyan Taw received his Ph.D. from the University of Tasmania, Australia. He served as short term consultant for FAO and World Bank funded projects in Saudi Arabia and Vietnam. He was a technical counter-part for ADB and JICA projects to develop the fisheries sector in Myanmar from 1976 to 1987. In 1988, he joined the FAO of the UN and served in aquaculture projects in Indonesia, Vietnam and the Philippines culminating the position of CTA. From 1995, Dr Nyan served as Production Director at a number of locations in Indonesia. In 2002, he joined CP Indonesia, as VP where he initiated biofloc technology. Later he served as SVP for Dipasena Group, Indonesia. He served Blue Archipelago as GM and developed a biosecure, modular RAS system shrimp farm from 2009 to 2015 in Malaysia. He has provided consultancy for shrimp farming companies in South & Central America, Middle East and Asia He conducted Shrimp Biofloc Technology workshops for shrimp farmers in Malaysia, Australia, India, Saudi Arabia, Indonesia, Thailand & Myanmar. He co-authored a chapter in the book by Avnimelech on Biofloc Technology (2012 & 14).
Abstract:
According Lightner (2003) biosecurity is excluding pathogens from stock (i.e. post larvae and brood stock), especially through the use of quarantine and specific pathogen (SPF) certified stocks, and restricting imports of live and frozen shrimps. Excluding vectors and external sources of contamination and preventing internal cross contamination from hatcheries and farms. The first major outbreaks of shrimp disease (WSSV) was from late 1994 in Asia which was controlled until recently crossover to Mexico, Brazil and to Australia in early 2017. Another outbreak of shrimp disease EMS started from China in 2009 and spread to Vietnam, Malaysia and Thailand. In 2013 crossed over to Mexico. The revenue lost estimated by FAO due this EMS outbreak was around USD 1.2 Billion in one year. The outbreaks were believed to be due to lack in biosecurity. Recently due to major loses of shrimp farms at Gold Coast due to viral (WSSV) outbreaks (McElroy, 2017), Australian Government is aware of the potential biosecurity risk that could damage market access for their fisheries and aquaculture industry and significantly increase production costs for farmers (Oz Fisheries, 2017). Most locations in Asia are not viral free. One must be able to operate amid viral threats. One important factor is to understand the character of virus you are trying to protect from. Biosecurity starts with quality of farm design. This is followed by biosecure operation system using SPF Post Larvae. With quality farm design, operation system and biosecurity awareness training, the viral (WSSV) issue can be minimized. Farm biosecurity begins with design and construction of farm. Development of shrimp farm layouts from simple pond base flow through system during 1980s. At present with modular system by using reservoirs to treat incoming water provide biosecurity required to control the emerging viral issues (Nyan Taw, 2005, 2008 & 2011). The success or failure in shrimp aquaculture is how successful one can prevent and control the viral (mainly WSSV) out breaks. Biosecurity had been applied in Indonesia since introduction of L. vannamei from 2002 (Nyan Taw et al, 2002, 2007, 2008 & 2009; Nyan Taw, 2005 & 2010). Present lecture covered mainly on shrimp aquaculture biosecurity for sustainable production.
Keynote Forum
Directorate of Fisheries, Government of Nagaland, India

Biography:
Dr.Nchumbeni Humtsoe obtained her Ph.D. Degree from University of Mumbai, India on the topic "Growth performance and biochemical composition of Labeo rohita to feed containing Katelysia opima and Nerita species," and completed a course on "Professional planning and development programme in fisheries" from CIFE, Kolkatta, India . She had represented scientist team from India and attended 7th Indo-Pacific fish Conference at Taiwan and presented a paper on topic, "Effect of arsenic on the enzymes of freshwater fish Labeo Rohita" which was published in reputed international journal. She had presented research papers on several national conferences. She is a competent researcher and can work well in team with good communication skill and tackle any challenges positively. She is specialized in fish nutrition and feeding technologies. She is a life member of Indian Fisheries Association since 2008 and currently working as a Fishery Inspector in the Department of Fisheries, Government of Nagaland, India.
Abstract:
Nagaland is a vibrant hill state located in the extreme north eastern end of India. Nagaland has well fisheries potential. It is endowed with rich and unique natural resources which provide immense potential for aquaculture development. Fishery Department is responsible for fishery development in the state and central programmes. With the expansion of the Department and diversification of fisheries development activities in the state Department has subsidiary establishment in all the Districts and Sub-Divisions. With vast and varied fisheries resources, fishery plays an integral part which has tremendous potential of becoming a major contributor towards the improvement of states economy providing livelihood and employment to the local populace. Special efforts have been made to promote fish culture by way of adopting semi-intensive to intensive fish culture, paddy cum fish culture, reservoir fisheries, integrated farming etc. Fisheries Department in Nagaland focuses towards achieving a level of self-sustenance in fish production through identification of weaker aspects of the resource utilization and development such as managing the rivers and reservoirs ensuring responsible fishing and sustainable fisheries, efficient application of technologies and strengthening the domestic marketing system. The Department envisages local production to about 8605 MT and in addition a bulk quantity of 3800-3850 MT fish may be supplemented from outside the state to meet the demands of fish consumption. This available fish consumption could achieve a per capita consumption of 6.23kgs only which is much below the nutritional requirement of 11kgs per capita consumption as per WHO recommendation. Thus there exists a huge demand supply gap in the state as far as the production is concerned. The average productivity levels of fish envisage to achieve from ponds, paddy cum fish culture and reservoir fisheries is 2150, 355 - 500 and 158 kgs/ha/yr respectively. Doyang reservoir, the biggest reservoir in Nagaland having a total water area of 2258 hectares is one of the main fishery assets of the state. The depth of the reservoir is about 75-80m deep and area of catchment is about 26.6 km. Reservoir covers around 17 villages. At present there are around 350-400 fisherman depending on fishing for their livelihood at Doyang reservoir. In spite of the available resources aquaculture has not made much impact in the state so far. Immediate needs and adoption of better management practices could augment the present fish production in the state.
Keynote Forum
Wayamba University of Sri Lanka, Sri Lanka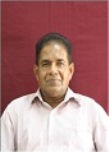 Biography:
W M T B Wanninayake (Senior Marine Biologist) formerly served as Professor of Fisheries and Aquaculture, Wayamba University of Sri Lanka and Chairman, Ocean University of Sri Lanka. He is a former Senior Researcher of the National Aquatic Resources Research and Development Agency (NARA), Colombo. He earned his BSc in Zoology and MPhil in Aquaculture (Crustacean Research) from the University of Kalaniya, Sri Lanka and PhD in Bivalve Research from the University of Liverpool, United Kingdom. He contributed immensely in developing the prawn farming industry and hatchery sector in Sri Lanka. He has been recognized for introducing oysters, mussels, clams and cockles farming in Sri Lanka and is also a pioneer in introducing pearl culture in freshwater reservoirs. He is a Founder Member of the Asian Fisheries Forum (AFS) and Sri Lanka Association for Fisheries and Aquatic Resources (SLAFAR). He has wide experience and a profound understanding of aquaculture and aquatic environment in many European and Asian countries. Currently, he serves in advisory capacity to few ministries related to his work in Sri Lanka.
Abstract:
A degradation of ecosystems is a significant direct effect of both fishing and aquaculture activities. The aquatic environment provides humanity with a large number of services ranging from food security and climate regulation to nutrient cycling and storm protection. Ecological services are classified into physical structure services, biotic services, biogeochemical services, information services, and social/cultural services. For the past few decades, these services have supported lives and livelihoods in many sectors but overfishing, pollution, habitat destruction, ocean warming, destructive aquaculture practices and acidification have threatened ecosystem services. Even the recent trends of using many marine and freshwater habitats of Sri Lanka for various goods and services has created many challenges similar to other parts of the world. The fundamental challenge is to identify options and opportunities to integrate the production of commodities together with the preservation of ecological values. Presently users compete for sharing the benefits derived from the aquatic ecosystems with little or no incentive to protect or improve those goods and services for future generations. As a result, aquatic ecosystems are facing increased risks towards enhancing their prospects of future wealth, livelihoods, and food security. It is, therefore, important to reflect at this juncture how we can maintain the balance between aquatic ecosystems and so called fishing activities. At present we have technology and information integrating the world more than any other time in history, and this has paved way to solve many problems. The current understanding of the relationships between ecological services and functional groups of species, and biological communities of aquatic ecosystems vary in different regions of the world. Nevertheless, the consequences of human impacts on aquatic habitats are also discussed, including loss of resilience, or buffer capacity. Such loss may impair the capacity to successfully recover aquatic ecosystems, and as a consequence the quality and quantity of their delivery of ecological goods and services have diminished. We need to improve the stewardship of aquatic habitats. Increasing public awareness can easily change the global scale consumer behaviors and choices. These challenges need to be addressed by global, public-private partnerships aiming at maintaining a sustainable balance among aquatic ecosystems, fishing, aquaculture and human wellbeing.